Project Two: Construction Zone and Walk:
Collect any size and shape of large and small boxes. Card Board Boxes, Shipping Boxes, Shoe boxes, Cereal Boxes. Large Appliance Boxes are great too!!! Light Weight Blankets as well.
Place in an open area inside or outside. Boxes can be stacked, Lined Up, Cut Holes for Windows, Cardboard for Roofing, Blankets for Roofing.
Be creative, build them, knock them over, make houses, go inside, bring snacks inside for a small snack time, create a "Yard" outside the Structures.
Review some Safety Signs if you have some. Talk about what they mean. Have a Children's Book on hand with Safety Signs in it to discuss
Take a "Construction Walk" in the neighbourhood. Observe the Signage posted in various areas such as "Do Not Enter", "Construction Zone", "Danger", "First Aid" and more.
Take care and inform group of safety hazards within the walk and also safety of Street Crossings.
Upon returning, have a healthy snack and discuss what we saw.
Follow this with a "Story Time". Choose books that relate to Construction Vehicles, Tools, Road Crossings, Traffic Lights and Safety.
Art Projects could be things such as Colouring Tool Shapes.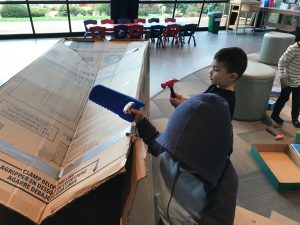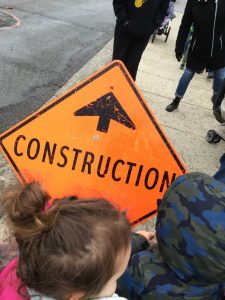 Download the PDF here: Ann's Corner – Project 2 Construction Walk PDF