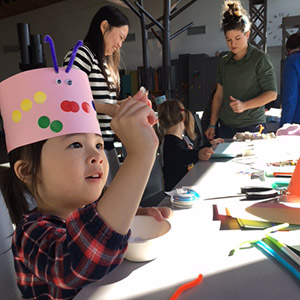 About
Mission
Our mission is to support families with young children in building healthy relationships and community networks, by providing services and programs in a welcoming, nurturing and respectful environment.
Statement of Diversity
We acknowledge and embrace a diverse spectrum of families and create and inclusive environment for all.
History of South Vancouver Family Place Society
In 1975, the Vancouver Life Skills Society (now known as South Vancouver Family Place Society) was established. Its major objectives were to prevent, reduce and relieve family stress resulting from raising children in isolation, as well as to prevent, reduce, and relieve family stress resulting from poverty, abuse, violence, single parenthood and social isolation due to language and cultural barriers. The society incorporated in June 1977 and its major project was to find a permanent home for its activities.
Family Place's first home was 4932 Victoria Drive and later relocated to the Fraser view Boys and Girls Club on Victoria and 60th Avenue. The next move was to a small mall located at 2295 East 61st. Meanwhile Kids Care Preschool opens under the society's umbrella in 1995, offering both kinder care and preschool programs.
Family Place joined the preschool on Bobolink Park in 2001 when the City of Vancouver generously provided a building for Family Place at our current location at 7710 Nanaimo Street. With the very generous support of the City to maintain these two buildings, SVFP see this as our home for many years to come.
Since 2002 there has been a great deal of expansion of the family drop-in model and by 2011, SVFP was offering family drop-ins in seven locations throughout South Vancouver. SVFP piloted the first Strong Start Centre in 2007 then added 3 more Strong Start Centers from 2008 until 2013 when the operation was turned over to Vancouver School Board (VSB).
With the seed money from United Way, SVFP opened the Fraserlands Family Drop-in in River District in 2011. Wesgroup Development presently provides the facility to operate the very successful drop-in program and the City of Vancouver and Westminster Savings support the program.
Our Staff
Our staff come from a wide variety of backgrounds and represent more than 15 language and cultural groups. The Staff are trained in early childhood education, special needs training, counselling, social work, family resource program training, early literacy training and other related education.
Volunteer Opportunities
There are many way to volunteer with South Vancouver Family Place. There are opportunities to be part of the Board of Directors, Playroom Assistant or Garden Helper. Please see a staff member for more information.
Contact us in learning more about our volunteer opportunities.
Becoming a Member
Annual memberships are $10 year per family. Membership fees are a much needed part of our annual revenue and help fund our Family Drop- in programs, parent education, workshops, special events and seasonal celebrations. Membership is an integral part of community participation and an effective way to contribute to our sustainability. We encourage everyone who participates in our programming to buy a yearly membership.
If you'd like to become a member of SVFP, speak with any staff member and complete our member registration form.
Benefits of Membership
Invitation to participate and vote at our Annual General Meeting (usually held in June)
The opportunity to serve on the SVFP Board of Directors
In the future, you may be interested in volunteering to join our Board of Directors.
The opportunity to learn more about our organization and how we are governed
Donations
Click This Button to Renew Your Membership or Make a Donation!
One-Time and Monthly Donations
We have been providing "A Home Away from Home" in South Vancouver for over 40 years. We strive to create a welcoming environment for you and your children so that you feel at home and a part of our South Vancouver and Fraserlands family.
Due to the unstable funding environment and budget constraints we need participants who access the many wonderful programs at the Drop-Ins and Preschool to contribute to the Centre's financial sustainability. We hope you will consider making a one-time only or monthly donation. All donations over $20 will receive a charitable tax receipt.
You can also speak with the Executive Director about leaving a legacy donation. Give a gift that lasts beyond your lifetime by leaving your legacy with South Vancouver Family Place Society.
Please speak to any of our staff or Board Members and we will happily assist you or you can donate online through the Canada Helps website.
Every dollar you give contributes to providing "A Home Away from Home" for all of our South Vancouver families.
Click This Button to Renew Your Membership or Make a Donation!
Get Involved
Supporting our Organization
Many of you may not have the time or interest in the governance of our society, however you may still want to show your support.
 You can volunteer your time in the drop-in program or the garden
You can make a cash donation; donations $25 and over will get a tax receipt.
You can donate some gently used children's toys or equipment that we can use to support our programs
You can write us a little message about the importance of our organization to your family. We can use this when we request funds for the running of our programs.
You can tell your neighbors and friends about Family place and encourage them to visit